Sula Too Performances
Dr. Mary McLeod Bethune Comes To Life
Ersula Odom's in-character performance brings Dr. Bethune to life before your eyes. "Dr. Bethune" shares impactful moments of her extraordinary life which are most relevant to the occasion.  Ersula portrays the life and accomplishments of Dr. Mary McLeod Bethune as either a one person show or as a part of a Florida Humantities Council team.   Check to book a performance.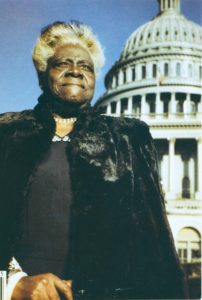 Dr. Mary McLeod Bethune(1875-1955) was the founder of Bethune-Cookman College. She served as a New Deal government official — she was one of the 20 highest-level offices held by women in the administration, and the highest held by an African American woman. She was founder of FDR's "black cabinet." She served as president of the National Association of Colored Women. She founded and served as president of the National Council of Negro Women.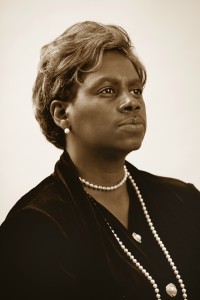 Sula Too Video Projects
Video — The Doris Ross Reddick Story
Video — The James A. Hammond Story
Video — Theresa A Manual – A Winner's Journey
Sula Too Publications
Book – Through These Eyes – The King Family Story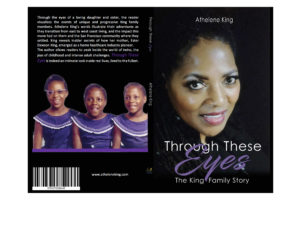 Through the eyes of a loving daughter and sister, the reader visualizes events of the unique and progressive King family members. Athelene King's words illustrate their adventures as they transition from east to west coast living, and the impact this move had on them and the San Francisco community where they settled. King reveals insider secrets of how her mother, Ester Dawson King, emerged as a home healthcare industry pioneer. The author allows readers to peek inside the world of twins, the joys of childhood and intense adult challenges. Through These Eyes is indeed an intimate look inside real lives, lived to the fullest.
Click here to order your copy today.
Ebook – Diana's 36 Years
Click here  To download your copy today. What you discover about your lifetime, as well as Diana's, may surprise you.
Author's Note: It is beyond belief that someone who only lived for 36 years could captivate people around an entire planet, but Princess Diana did.
As we commemorate her life, I could not get past the 36 years, so I ventured back in time, discovered, and remembered fascinating historical moments that may have in some way affected her life, as they did our lives. Moments, you might say, we shared with  Diana. One can never know what really took place in private moments of Diana's life, but some that were made public are in this ebook alongside the history she paralleled.
Book – The Doris Ross Reddick Story –  Co-written with Ersula Knox Odom
The first Black woman to serve on and chair the Hillsborough County School Board was Doris Ross Reddick. Mrs. Reddick taught children and adults in Hillsborough County Schools for many years. She served as a resource and reading teacher, learning and curriculum specialist, assistant principal, and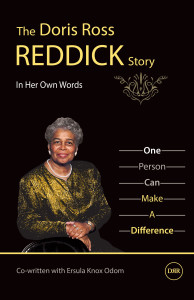 as an educational diagnostician.
Her story has been built from a legacy of love and the collective wisdom of generations. Former slaves to United States Presidents have held her hands to hold her, to guide her and to be honored to meet her.
From Florida to New York Mrs. Reddick's impact has been profound. She led the way to a peaceful transition during desegregation. She helped set the standard for teaching African American and Hispanic Studies in Florida. She put injustice to shame as she demanded equality for minority business owners.
Her story reveals how one person with a soft voice and a firm hand can indeed make a difference. This book is the product of her sharing spirit and desire that her story may serve as an example that you can materialize whatever dream your heart can imagine. www.dorisrossreddick.comwww.sulatoo.com  Click here to order.
Book – African Americans of Tampa by Ersula Knox Odom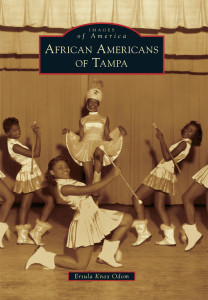 Tampa has a fascinating past that has been wonderfully documented with one exception: African-Americans. This culturally rich community is virtually invisible in the eyes of history. Tampa's population exploded during the early 1900's, and the building boom universally required the skills and talents of African-Americans, who provided services, labor, and entrepreneurship in a massive form. They played significant roles in everything from Tampa's wilderness era to its boom town years and were key players in the first and second Seminole Wars with their Seminole alliance. African American soldiers captured Fort Brooke during the Civil War and fought in the Spanish-American War. Residents have endured Jim Crow, desegregation, and racial unrest yet thrived as entrepreneurs. Black Cubans, as part of the greater African-American community, enabled Tampa's world-renowned cigar industry. The photographs found in African Americans of Tampa clearly illustrate Tampa's social and productive African-American community. Click here to order.
Book – At Sula's Feet by Ersula Knox Odom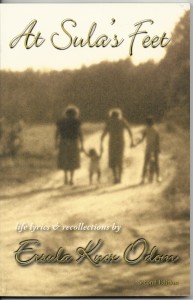 From the heart and soul of Ersula Knox Odom comes "At Sula's Feet", the fond and treasured recollections of a country girl whose life was shaped and enriched by the wit, wisdom and love of her grandmother. Take a journey down the dirt road where many of her life lessons were learned in a time that was simple and significant. Some things will make you smile, cry or laugh out loud. If you are like most, you will find yourself venturing back to your childhood memories to pick up your forgotten family treasures. Resellers contact 800-435-0285. Click here to order.