Through These Eyes by Athelene King
  .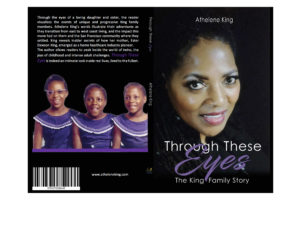 Through the eyes of a loving daughter and sister, the reader visualizes events of the unique and progressive King family members. Athelene King's words illustrate their adventures as they transition from east to west coast living, and the impact this move had on them and the San Francisco community where they settled. King reveals insider secrets of how her mother, Ester Dawson King, emerged as a home healthcare industry pioneer. The author allows readers to peek inside the world of twins, the joys of childhood and intense adult challenges. Through These Eyes is indeed an intimate look inside real lives, lived to the fullest.
Order your personal copy today! Just click and send 24.99 (19.95 + 5.04) shipping and handling.
Go to https://paypal.me/atheleneking, type in the amount. Since it's PayPal, you know it's easier and more secure than cash or checks.
Don't have a PayPal account? No worries. Getting one is fast and free.