Ersula Knox Odom Portrays Dr. Mary McLeod Bethune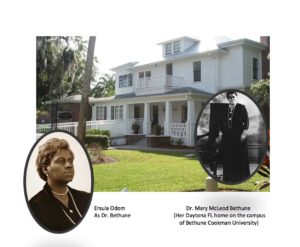 Ersula Odom's in-character performance brings Dr. Bethune to life before your eyes. "Dr. Bethune" shares impactful moments of her extraordinary life which are most relevant to the occasion.  Ersula portrays the life and accomplishments of Dr. Mary McLeod Bethune as either a one person show or as a part of a Florida Humantities Council team.   Check to book a performance.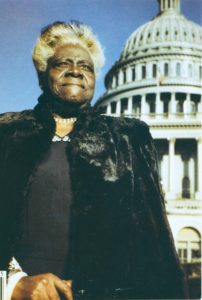 Dr. Mary McLeod Bethune(1875-1955) was the founder of Bethune-Cookman College. She served as a New Deal government official — she was one of the 20 highest-level offices held by women in the administration, and the highest held by an African American woman. She was founder of FDR's "black cabinet." She served as president of the National Association of Colored Women. She founded and served as president of the National Council of Negro Women.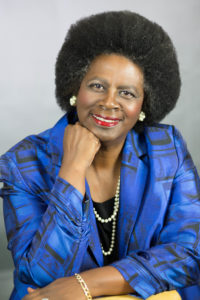 Ersula Odom-McLemore is a legacy writer,  workshop leader, FHC Mary McLeod Bethune chautauquan, motivational speaker, prize winning life lyricist, and author of "At Sula's Feet", "Africans Americans of Tampa", and co-author of 'The Doris Ross Reddick Story".
As a motivational speaker, Ersula has the uncommon ability to relate to multi-generational and multi-cultural audiences by sharing experiences from such areas as rural living, college life, fortune 500 corporate management, spirituality, entrepreneurship, sales, and genealogy to publishing her first book.
Facebook: www.facebook.com/sulatoo                           Twitter: @sulatoo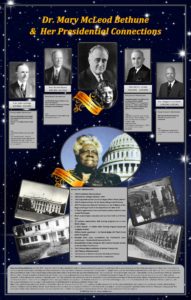 Mary McLeod Bethune Reading List:
Mary McLeod Bethune: A Biography — A Life Devoted to the Cause of Racial Equality

Mary McLeod Bethune: Building a Better World, Essays and Selected

The Life and Legacy of Mary McLeod Bethune

When and Where I Enter: The Impact of Black Women on Race and Sex in America by Giddings, Paula(May 1, 1984) Hardcover

When and Where I Enter: The Impact of Black Women on Race and Sex in America